We take pleasure to introduction ourselves as leading civil contractor in this region, with hi-tech Development & Structural work being our forte. We are established contractors with experience in civil & structural works. The proprietor of the concern have substantial experience in civil construction work and has an unblemished record of completing projects contracts amounting to cores of rupees in time.
Most of the employees professionally qualified having practical experience in this line. The concern has enough infrastructure sources to execute projects of large sizes and has entrepreneurial capability to manage the same further more the human resources associated with the concern are well qualified hardworking and dedicated which add strength's to the pillars of the concern. The management structure of the group is diversified in nature with construction of flats, Earth Filling, Drain, Site Developing, Commercial shed, Hospitals, Multi Stories Flats, being managed by the aforesaid Concern and the sister concerns of the concern.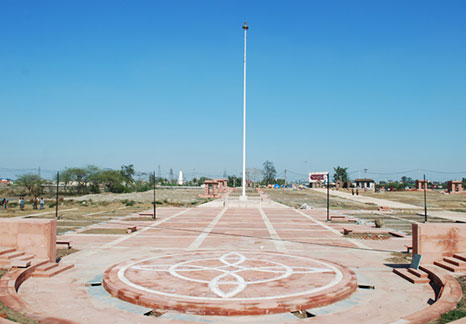 Residential projects and Commercial projects amounting to the tune of Rs.20 Corers are in process. We are enjoying a good reputation in our line having sound financial position capable of executing contracts of any extent, beside, we have got sufficient infrastructure and strong organization setup equipped with sophisticated machinery for timely completion allotted works. Further the principal office at Delhi fully automated all the computer installation to handle all the projects.
We are capable of undertake of any of following works of large magnitude Residential accommodations Administrative and other public Buildings essential infrastructure of a Township such as Hospital, Schools, Club, Swimming Pools and Multi Stories Flats with Lift installation and also doing Rain Harvesting systems etc.
Industrial and factory building such as construction of assembly sheds of large span and of special designs, stores, Warehouses, Workshops, Power House, Electric Stations etc. Foundation for heavy installation, large water reservoirs, underground structures, huge capacity water retaining structures etc. Heavy & Earth work in cutting and filling by mechanical process by our means.
External services of Township/factories such as execution of Bulk Water supply system area Drainage, Trunk Sewer system along with Water Treatment Plant of any type and External Electrification. Area Development, Grading, Leveling, Road Sewerage and Drainage Works. Canal Lining, Barrages, and Under ground Water Storage etc. involving Roads Sewerage and Drainage works and Mass Earthwork and Concrete works. Heavy Steel Fabrications. We are organized to quickly marshal our resources to undertake any of the above-mentioned works of any magnitude of any Engineering project and execute the same with speed and quality constructions.
We have already executed works of reputed concerns like DDA, We have successfully completed many works of like Building construction, Development works, Sewerage & Drainage work, Swimming Pools, Multy Storied Flats, Factory Building and Commercial Complex. Etc. If given an opportunity to work with your esteemed organization, we assure you that we are capable to executing works of any magnitude meeting any deadline with quality work to the best of your satisfaction and approval. Thanking you and assuring you the best of services and co-operation all the time.